WHealth – Corporate Wellness Solutions' debuts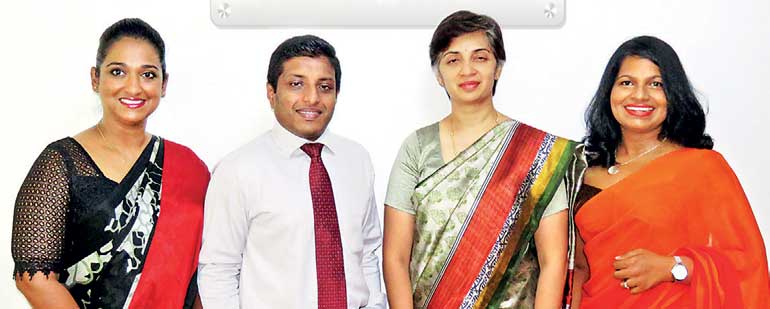 From left: MyDoctor.lk Head of Operations Karen Samarawickrama, MyDoctor.lk Consultant Dr. Malinda De Silva, Healthy Life Clinic Director/Physician Dr. Kayathri Periasamy and Forté Consultancy Organisational Psychologist/Founder Rozaine Cooray
'Health is wealth' and this saying cannot be more relevant than today when the world at many levels is reaching its melting point. The ability to understand one's wellbeing in all aspects of life and to see the connection between the body and mind can help one manage one's health better.
'WHealth – Corporate Wellness Solutions', a holistic health and wellness solution for the corporate world was launched by Healthy Life Clinic in partnership with Forté Consultancy and MyDoctor.lk at the Healthy Life Clinic, in Colombo on 26 October. Based on the premise that wellbeing is a result of commitment to consistent practices in all aspects of human functioning, 'WHealth – Corporate Wellness Solutions' is a synergy between the professionals of physical health, mental health and technology. Stemming from the fundamental belief that businesses stand a lot to gain from putting employee wellness first, WHealth offers organisations with holistic and well-rounded wellness packages that are customised and covers from assessment to diagnosis to treatment. It puts aside the traditional healthcare model to make quality care more accessible, and tailor-made. WHealth goes above and beyond the standard medical checkups, to offer periodic health profiling, lifestyle coaching, behaviour management through proactive monitoring, and motivational support services to add more meaning to physical health checkups. It is an ideal solution for organisations to offer as benefits to their workforce.
Healthy Life Clinic Director/Physician Dr. Kayathri Periasamy observed that, "Based on the current health trends and needs of the Sri Lankan population, it is clear that non-communicable diseases are the biggest killers. To understand the gravity of it, one only needs to think of the causes of death in the last five funerals one may have attended. It rears its ugly head during the 20s, is nurtured in the 30s and practically ignored in the 40s, only to succumb in the 50s just when one retires. This is where, good clear health awareness messages can help in preventing such devastating consequence".
WHealth brings in this information to organisations and corporates, and also provides support and guidance for a continuous healthy mindset within the organisations. Not only does this reduce the burden of disease and disability, but this also improves general motivation, morale, and productivity. Healthy Life Clinic offers a range of physical health solutions supported by an expert team of specialised medical professionals for individuals and organisations alike. The organisation is led with a mindset of strengthening health and wellness based on analysing many health activities within corporates over the last eight years.
Forte Consultancy, led by Business and Organisational Psychologist Rozaine Cooray, contributes to the mental and emotional health component to the solution thereby, focusing on overall wellbeing of the workforce. Based on 9+ years of experience offering coaching, counselling, and workshops to improve the mental and emotional health within organisations in Sri Lanka, Rozaine Cooray stated that, "We recognise the debilitating effects that prolonged stress and dissatisfaction due to the ever increasing demands of the organisational world. Through WHealth, Forté Consultancy offers outplacement counselling and lifestyle coaching via phone/Skype, or face to face, mental health workshops on stress management, and emotional, social and relationship intelligence to better equip people to build resilience in their organisational and personal life."
With a strong sense of culture and behavioural analytics, Forté consultancy also contributes in designing industry and organisation specific assessments that can measure the psychology of the person and the organisation as a whole and conduct further deep dives to identify the root causes for employee dissatisfaction and low engagement.
MyDoctor.lk the pioneer in the digital healthcare landscape in Sri Lanka unifies the health and wellness expertise of Forté Consultancy and Healthy Life Clinic, thereby bringing them together under their 'hi tech, hi touch' platform making health information and, consultations more accessible and interactive.
Dr. Malinda de Silva of MyDoctor.lk stated that, "MyDoctor pursues a holistic approach towards health and wellness as opposed to fragmented services that are provided today. We facilitate well trained health and wellness experts to be available around the clock via phone, video or email whether you are at home, office or on the go. The revolutionary addition has been the introduction of a comprehensively connected health vault which links-up the key stake holders in the healthcare industry, namely the Doctors, Patients, laboratories and Pharmacies. MyDoctor services are offered to the public and the corporates in the form of easy to use Apps as well as via the web. These apps have brought about convenience in accessing health care services and vital health statistics about the individual to show the relationships and crucial connections between the body, mind, soul and spirit, thus assisting one to be in manage of the healthcare journey and make proactive modifications to their lifestyle whenever needed."
WHealth also encompasses services on preventive measures such as physical fitness, nutrition and relaxation techniques and encourages balance in physical, mental, emotional, social and spiritual aspects that are unique to the person. Integrating these aspects of wellness in to the equation of business growth, WHealth employs the relevant health and wellness indices to provide organisations with measurements and analytics (including ROIs) to best plan and balance business growth with sustainable employee engagement levels. For more information please call 117247000 or 0773511511.